Press_Release_content_13 - 04- 2023
Quarterly global Industrial 3D Printer shipments sag but revenues rise again
3D Printing Industry Resets Expectations for 2023
LONDON, 13 APRIL 2023 - In the last quarter of 2022, global 3D printer shipments continued the trend established earlier in the year with volumes flat or falling, according to the latest global market intelligence by CONTEXT, the IT market research firm.
"While industrial unit shipments dipped, system revenues rose again thanks to inflationary price increases and a shift at the highest end of the market towards more efficient (and higher priced) Industrial metal machines", according to Chris Connery, head of global analysis at CONTEXT.
"With their end-market buyers still challenged by global inflation and fears of regional recessions, 3D printer vendors across the world have begun to shift their focus from market expansion to profitability and reset their expectations for 2023 to single-digit unit sales growth."
INDUSTRIAL SYSTEMS
In the key Industrial price class (which accounted for 57% of global system revenues in Q4 2022) shipments were down -13% year-on-year (YoY) but revenues rose +7% thanks to average prices increasing by +23%.
While this was, in part, due to inflation, growing demand for large metal powder bed fusion systems also played a part. Between polymer and metal-based systems - which collectively accounted for 94% of the category unit total - Industrial polymer shipments dropped -19% YoY in the quarter while metal shipments were fell -11%.
Industrial metal shipments had previously seen eight consecutive quarters of growth led by powder bed fusion systems and accelerated shipments into China. These latest figures show falling sales for Western and Chinese companies alike and metal powder bed fusion printer shipments down -5%. Nonetheless, shipments of the newest multi-laser, large build-volume systems from vendors such as Velo3D and SLM Solutions (recently acquired by Nikon) have continued to grow leading to an overall revenue increase of +26% for metal powder bed fusion printers. While the formerly red-hot China region saw shipments fall -5% YoY, it remained the world's largest market - the destination for 39% of Industrial metal 3D printers from across the globe. The most concerning change in Q4 2022 was the -22% YoY volume drop for shipments into the US.
Chart 1: Industrial 3D printer systems: global shipments and revenues

Over the year as a whole, shipments of Industrial polymer printers dropped -10% YoY while metal printer shipments rose +5%. Within the metal category, powder bed fusion printers, which accounted for 75% of all Industrial metal systems, saw nice demand and were less hampered by their own supply-chain limitations, resulting in shipments rising +12% for the year. While polymer and metal printers dominate the Industrial class, representing 57% and 39% of the market respectively, two nascent material categories seeing noteworthy shipment growth for the year were ceramics and composites. While neither category rose above a 2% share, shipments of ceramic printers rose +34% thanks to strength from vendors like 3DCeram, Carima, Lithoz, Nano Dimension (after acquiring Admatec), Xjet and others while Markforged helped to create a new sub-category of Industrial composites thanks to ramped-up shipments of their FX20.
MIDRANGE SYSTEMS
Midrange 3D printers, costing $20,000-$100,000, provided a bright spot in the Q4 2022 market as +20% more of these machines were shipped across the world than in Q4 2021. Price increases have shifted some existing printers into this class but most of the growth was organic and due to take-up of new products. Stratasys remained head-and-shoulders above the competition and shipped 28% of all printers in this price class but Formlabs made a remarkable entrance into the class with its enhanced Fuse SLS polymer powder bed fusion line and vaulted into the number two position. Other new systems that helped the category grow included Stratasys' Origin platform and UnionTech's extension of its DLP vat photopolymerization platform as well as products from Sinterit, Roboze, Xact Metal and Desktop Metal's Desktop Health line. Well-established companies moving beyond their initial or core technology to also offer solutions for other materials or using different processes in this way has driven expansion of the 3D printer market time and time again and has nearly always resulted in sustained growth.
Chart 2: Midrange 3D printer systems: global shipments by model/series (new models highlighted)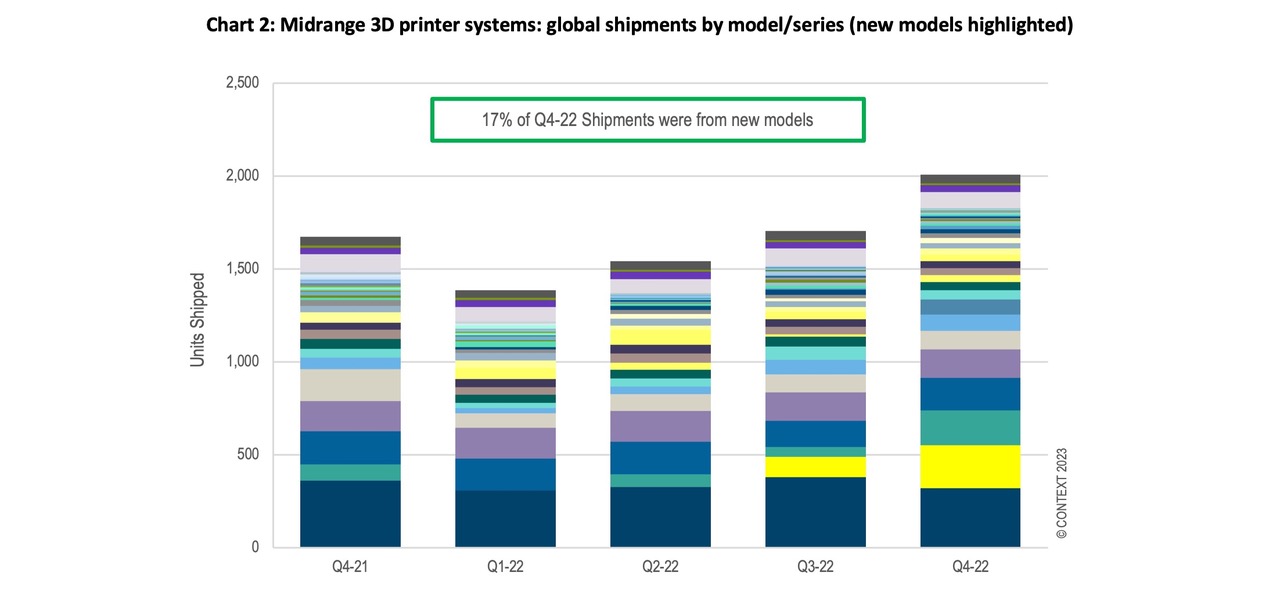 PROFESSIONAL
The Professional price class covers 3D printer shipments costing $2,500-$20,000. In Q4 2022 shipments of these were down for the third consecutive quarter, this time by -12% YoY. Revenues remained more or less flat, mostly as a result of inflation. UltiMaker, the market share leader in the class, saw a YoY -26% decline in aggregate shipments for products in this price-point (combining the MakerBot products which fall into this price class along with its Ultimaker brand products) but saw nice initial success with new products in other price-classes. Of the Top-5 vendors, Raise3D performed best in the fourth quarter, shipping +32% more printers YoY. Systems using LCD-based vat photopolymerization techniques such as Nexa3D's LSPc technology were winners over the year with +7% more machines shipping in 2022 than in 2021.
PERSONAL AND KIT & HOBBY
Personal 3D Printer shipments dropped -2% from a year ago in Q4 2022 while revenues rose +16%. Kit & Hobby shipments were up +15% for the quarter with Creality remaining the dominant market-share leader in this low-end. While overall consumer spending in the United States (the largest end-market for this low-end with North America representing 40% of the collective category's shipments) was quite weak in Q4, shipment rates in this category held up a bit better than expected in the region. While vendors of enterprise-focused systems are able to better cope with inflation by raising prices, many selling the smallest, cheapest printers are finding it increasingly difficult to make money. As a result, the period saw the beginning of the exit of some higher profile companies from the market including XYZprinting which divested part of its SLS business line to Nexa3D and announced its general exit from the 3D printer market. Other, more regional brands including S. Korea's Sindoh and the US' Dremel (formerly offered by Bosch) downsized, sold-off or otherwise defocused efforts on the 3D Printing market.
OUTLOOK
"While the forecast for 2023 new printer shipments has been pared back, expectations are that revenue growth will once again far outpace unit growth", said Chris Connery. "Inflation looks set to push prices up even more and the move toward higher-end metal powder bed fusion machines does not seem to be over."

The prospect of low- to mid-single-digit unit shipment growth applies to all major price classes with Industrial printers poised to do best (shipments are forecast to increase by +7% and revenues by +19%). While 2023 is set to be challenging, there is still a longer-term momentum: people across many industries still consider 3D printing a viable means of localising production to mitigate future supply-chain issues. As a result, the forecast is +28% CAGR in system revenues for the key Industrial printer market over the next five years.
About CONTEXT
CONTEXT's market intelligence, performance benchmarks and opportunity analysis empower clients to optimise operations and accelerate tomorrow's revenues. With over 35 years of industry partnership and experience reporting on large datasets, CONTEXT delivers analytics at all points in the value chain, providing clients with actionable insights rooted in concrete data and a profound understanding of customer needs. CONTEXT is headquartered in London, with over 300 staff across the world and in 2019 was recognised as one of the UK's Best WorkplacesTM by Great Place to Work®.

Press Contact
Funda Cizgenakad
T: +44 7876 616 246
E: Funda@contextworld.com
Sign up

Register to receive the latest press releases